Posted: November 29, 2018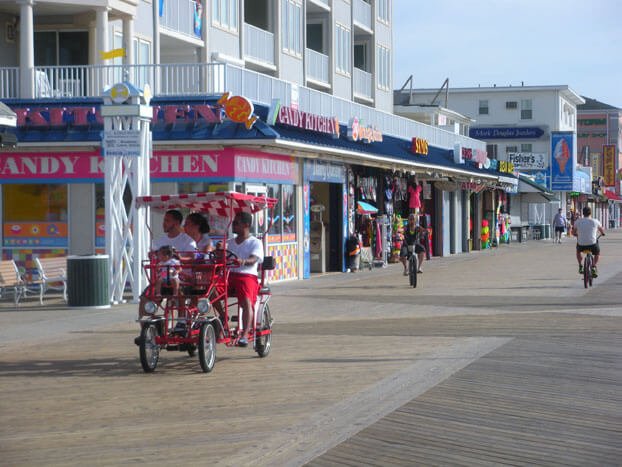 Park your cars once you get to town and enjoy your time in Ocean City! No one wants to spend time sitting in their car on Coastal Highway while they are on vacation. What, then, is the best form of transportation you ask? Bikes!
Bicycles are allowed year-round in Ocean City, with specific limitations and regulations on the Boardwalk during the peak summer season. Between Memorial Day and Labor Day, you are only allowed to ride your bike on the Boardwalk from 2am-11am daily, due to summer crowds. During the off-season, there are no restrictions aside from Springfest and Sunfest weekends.
Is the weather getting colder? Don't let that stop you! Bundle up and enjoy the beauty of our beaches and boardwalk on a crisp fall or winter day.
Dandy Don's Bike Rentals
You're probably thinking, "I don't have space to bring a bike with me on vacation!" When you stay at the Howard Johnson® By Wyndham Oceanfront Plaza Hotel, you are in the ideal location. Along with being right on the Boardwalk and only steps from the sandy beach, Dandy Don's Bike Rentals is right outside the hotel!
Family owned and operated since 1996, Dandy Don's offers a variety of bicycles for everyone including beach cruisers, banana bikes, and Ocean City's only 'Boardwalk Cars.' The bike rental shop also offers bike accessories and repairs.
Bike Smart!
Make sure that no matter what time of year it is, you are on the lookout for pedestrians and other bikers on the boardwalk, as well as on the streets! Biking is a great way to get around in town, but be sure to keep it as safe as possible. Bikers on the streets and along Coastal Highway must follow all the same traffic laws as motorists.
Be aware of your surroundings, wherever your biking adventures may take you!
Categories: Things to do
Tags: boardwalk, boardwalk bike ride, dandy don's